In what can only be a boost to Charlotte County real estate, Charlotte County and the State of Florida have joined with the Tampa Bay Devil Rays to break ground on a 27.2 million dollar reconditioning of Charlotte County Stadium.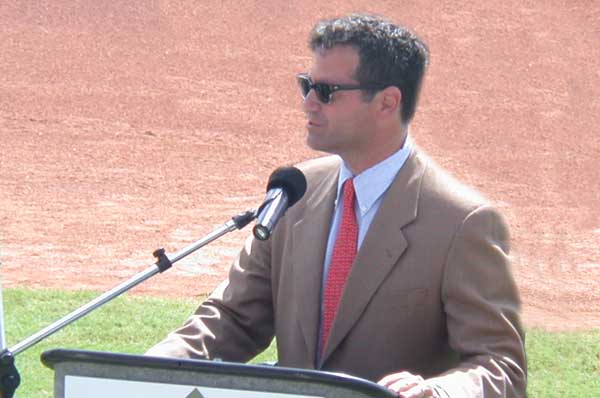 Devil Rays owner, Stuart Sternberg, speaking at the Charlotte County Stadium renovation ground breaking
After the renovation is complete, The Tampa Bay Devil Rays will begin spring training here in Port Charlotte, Florida. Port Charlotte real estate and the surrounding towns should begin to see benefits from this partnership rather soon. The Devil Rays have forged a true partnership with Charlotte County that is unique in professional sports. Unlike other sports teams that ask a community "what have you done for me lately?€, the Rays ownership is contributing about 25% of the renovation cost. In addition, the Rays have not only agreed to allow the county to use the facilities when the Rays are not, they have encouraged this alternative use.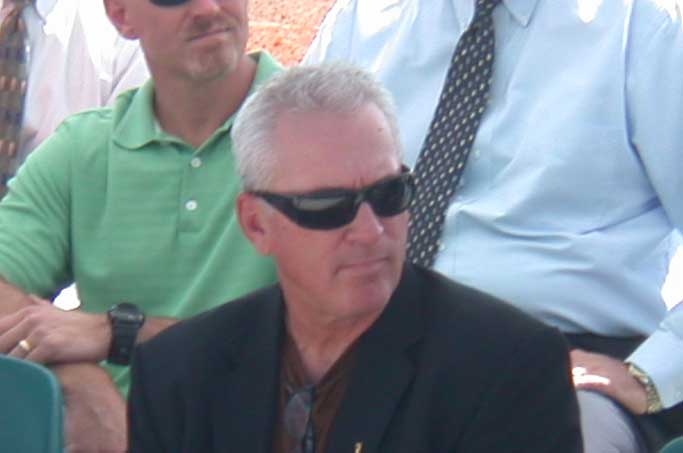 Devil Rays manager, Joe Madden listens to Sternberg's address….
Team owner, Stuart Sternberg told the crowd at the ground breaking that the Rays want to show Charlotte County that they will be good partners. "I assure you we'll be here year round,€ Sternberg said. "The Rays are about being good neighbors and making friends.€ Sternberg admitted that the decision to move the Rays spring training facilities to Port Charlotte was certainly about business and expanding the fan base. Nevertheless, he praised the cooperation he has received from county staff as well as residents and hoped the relationship would last well beyond the 20-year agreement.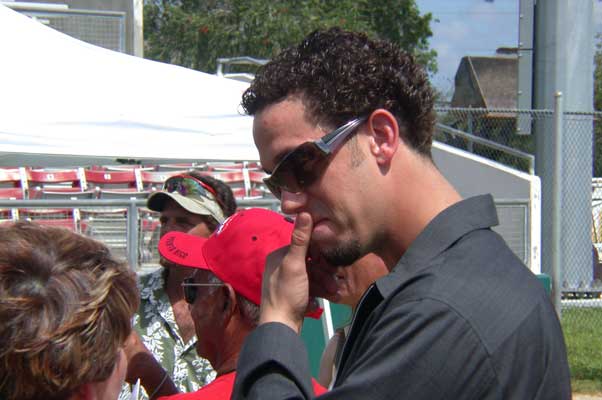 Devil Rays starting pitcher, James Shields, chats with fans after the ceremonies… James had pitched seven innings of two hit ball the day before against the Cleveland Indians.
Owners of second homes and rental properties in Port Charlotte, Englewood, Rotonda, Punta Gorda and North Port stand to benefit from this partnership. Sports pages as well as TV and radio sports programs will mention games played in Port Charlotte by the Boston Red Sox, the New York Yankees, the Minnesota Twins, The Cincinnati Reds and other teams. Fans of the Red Sox, Yankees and others will rent and buy homes in the area.

Joe Madden signs an autograph for a Rays fan at Charlotte County Stadium
We have a customer from upstate New York in the process of buying a condo in Port Charlotte, only three miles from the stadium. He intends to rent the condo during February and March to baseball fans or Rays staff. His intention is to reduce expenses on his second home and have use of it during part of the winter season.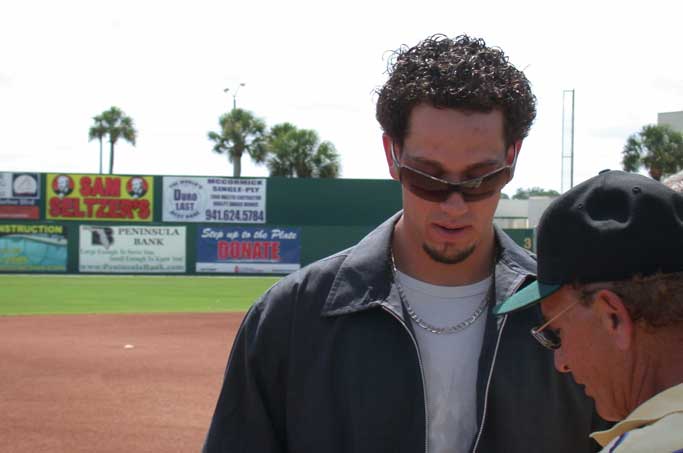 James Shields signs an autograph. James said he looks forward to spring training in Port Charlotte.
Very nice condos for sale in Port Charlotte, Florida can be purchased for under $165,000 at this time. Smaller units are now for sale for less than $100,000.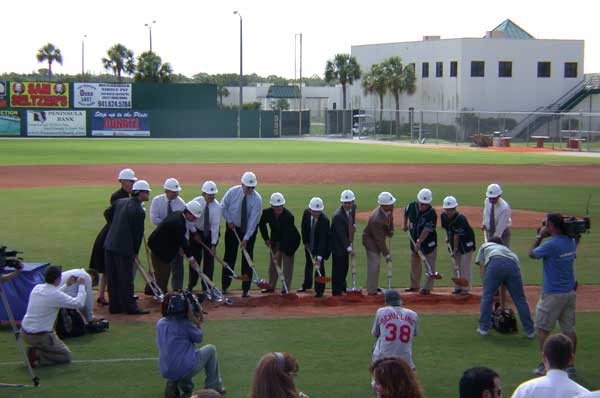 The ground breaking ceremony… Is that Curt Shilling kneeling in the front, jealous of the Rays' new spring training stadium?
Luxury, waterfront homes in Punta Gorda Isles would be a nice choice for a second home, vacation home, seasonal home or retirement home.
North Port, Florida homes are very close to Charlotte County Stadium. Lots and land for sale in North Port, Florida are also available to build your dream home.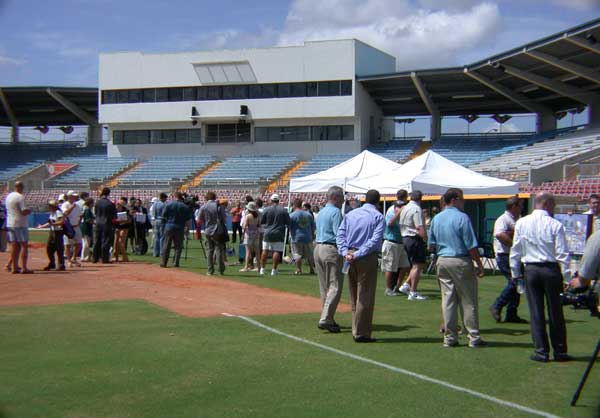 "Remember this", Stuart Sternberg said, waving his arm at the current stadium, "the next time we're here it will be completely different."
Englewood and Rotonda are close to Charlotte County Stadium. Baseball fans can take advantage of the many golf courses in and around Rotonda. Condos for sale in Rotonda (Rotunda) West, Florida might be a good choice for those seeking a low maintenance home. The inventory of homes for sale in Rotonda (Rotunda) West, Floridaoffers a great selection from affordable to luxury.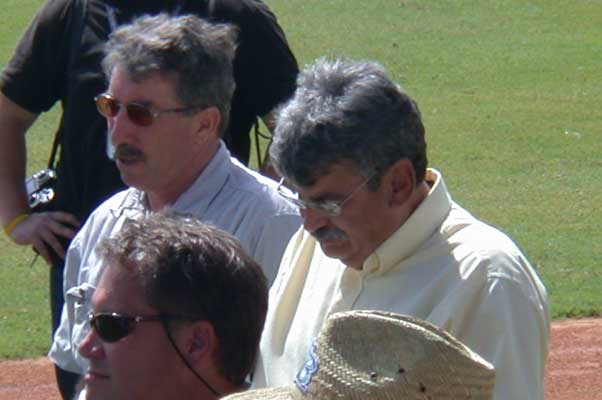 John Finneran, Sun-Herald newspaper sports editor, worked hard to convince the Rays owners that Charlotte County Stadium should be their choice for Spring Training.
Slow sales during 2006 and into 2007 have created buying opportunities throughout the area. There are many signs that property values have leveled out and this is the time to consider a purchase. Your Suncoasteam will work hard to find the best deal for your budget. Please call or write today for more information about this section of Paradise.
Jim Mulligan (941) 456-3034
Andy Leonard (941) 662-0033
Questions: sales@avalonsuncoast.com
Search the Southwest, Florida MLS
Featured Homes, Condos and Lots for Sale in Southwest, Florida
Homes For Sale In Southwest, FL
Sellers – Know what your Southwest Florida home is worth in today's market. Click here for a FREE, NO OBLIGATION MARKET ANALYSIS of your Southwest Florida Home.
Port Charlotte – Northeast:
Homes For Sale In Port Charlotte, Florida – Northeast Section
Condos For Sale In Port Charlotte, Florida – Northeast Section
Lots and Land For Sale In Port Charlotte, Florida – Northeast Section
Port Charlotte – Southwest:
Homes For Sale In Port Charlotte, Florida – Southwest Section
Condos For Sale In Port Charlotte, Florida – Southwest Section
Lots and Land For Sale In Port Charlotte, Florida – Southwest Section
Punta Gorda Isles:
Homes For Sale In Punta Gorda Isles, Florida
Condos For Sale In Punta Gorda Isles, Florida
Lots and Land For Sale In Punta Gorda Isles, Florida
Deep Creek Section:
Homes For Sale In Deep Creek, Florida
Condos For Sale In Deep Creek, Florida
Lots and Land For Sale In Deep Creek, Florida
Englewood East:
Homes For Sale In Englewood East, Florida
Condos For Sale In Englewood East, Florida
Lots and Land For Sale In Englewood East, Florida
Englewood West:
Homes For Sale In Rotonda (Rotunda) West, Florida
Condos For Sale In Rotonda (Rotunda) West, Florida
Lots and Land For Sale In Rotonda (Rotunda) West, Florida
Rotonda (Rotunda) Lakes, Rotonda (Rotunda) Heights, Sands, Meadows & Villas:
Homes For Sale In Rotonda (Rotunda) Lakes, Rotonda (Rotunda) Heights, Sands, Meadows & Villas, Florida
Condos For Sale In Rotonda (Rotunda) Lakes, Rotonda (Rotunda) Heights, Sands, Meadows & Villas, Florida
Lots and Land For Sale In Rotonda (Rotunda) Lakes, Rotonda (Rotunda) Heights, Sands, Meadows & Villas, Florida
Cape Haze (Cape Hase):
Homes For Sale In Cape Haze, Florida
Condos For Sale In Cape Haze, Florida
Lots and Land For Sale In Cape Haze, Florida
South Gulf Cove:
Homes For Sale In South Gulf Cove, Florida
Condos For Sale In South Gulf Cove, Florida
Lots and Land For Sale In South Gulf Cove, Florida
Englewood Beach and Manasota Key:
Homes For Sale In Englewood Beach, Boca Grande and Manasota Key, Florida
Condos For Sale In Englewood Beach, Florida