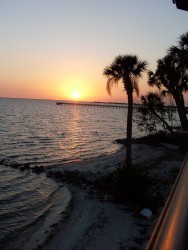 Charlotte Harbor in Punta Gorda, FL is home to nine man made oyster reefs. With the help of the Nature Conservancy, volunteers in the Charlotte Harbor area have installed the reefs in an area at the mouth of the Peace River. It is hoped that oysters will thrive in the new reefs and help keep the river and harbor clean.
Nature Conservancy volunteers will monitor the reefs and perhaps add more to other parts of Florida. The reefs will provide food and habitat for fish and crabs. The reefs are located off the Harborwalk area just north of downtown Punta Gorda.
It is hoped that the reefs will add extra protection to the shoreline of the Peace River and Charlotte Harbor as well as filtering the water to aid fishing and water quality.
The waterfront of Punta Gorda, FL is vital to the community. People choose to live in Punta Gorda and Port Charlotte because there is such a beautiful waterfront. A healthy river and harbor will only enhance quality of life here and help protect waterfront and canal homes.