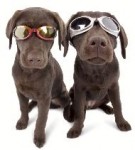 By Debra Mann, REALTOR, Suncoasteam Realty
Contact Debra: 941-626-0744, debra@suncoasteam.com
If you are a pet owner or looking for that special gift for a pet lover you know, forget about the run of the mill, chain pet stores & head down to Salty Paws, located in Fisherman's Village in beautiful Punta Gorda, Florida!! (1200 W Retta Esplanade)
This unique store has a wide variety of merchandise: from pet pool & boat gear (they even have sunglasses) to furniture, toys, travel gear, clothing, accessories & gift items for dog & cat lovers!
You KNOW your pet is welcome, when you see a bowl of fresh water waiting for them just outside the door of the store!!  Check out all of the wonderful doggy treats… they will even give your furry friend a sample!
The first Thursday of every month, they host "Muttini Mingle" (a Pawtastic Happy Hour).  It takes place in Center Court of Fisherman's Village.  There is live entertainment, cocktails & munchies…  it is a great way to socialize your dog & meet new friends!  They also accept donations at this event to benefit local animal rescues.
Make a date to visit this one of a kind pet store!
If you are interested in finding out about living in this wonderful paradise we call home, please click on Real Estate for sale in Punta Gorda.  …or if you have any questions or want more information about real estate in Punta Gorda, Florida contact Your Suncoasteam @ 941-626-0744 or debra@suncoasteam.com.