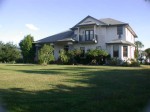 According to research by the National Association of Realtors, home sales are up 8.6% in Florida for the year 2013 with over 19,000 units. There has now been over 25 consecutive months of sale price increase in both single family homes and condo/townhome/villa.
Homes are also selling after. The median time on market statewide was 50 days, meaning half of all listings sold in less than two months of entering the market. "Florida's market exhibited all the signs of the annual holiday lull," said Florida Realtors Chief Economist Dr. John Tuccillo, explaining that homes might stay on the market slightly longer in December / January.
Inventory of single-family homes was at a 5.5-months' supply in December. Supply for townhouse-condo properties was 5.8 months, according to Florida Realtors.
In related news, home builders report an increase in prices for new construction. Michael Gapen, senior U.S. economist at Barclays, predicts that home prices will rise 7 to 8 in 2014. The increase in new home prices will make existing homes more attractive to buyers.