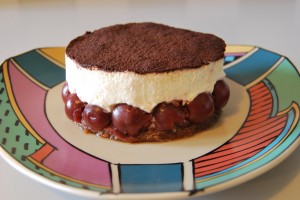 Tiramisu is one of the classic Italian desserts made from Mascarpone cheese. I know it is hard to find Mascarpone cheese in the stores and that is the reason that I use cream cheese as a substitute for Mascarpone cheese in the recipe. Furthermore I add some cherries in my Tiramisu version. The little sour cherries are a good player with the other part of sweet cream.
Servings 8 Person
Ingredients
14 oz cream cheese
10 oz heavy cream
¼ cup sugar
1 can cherry in light sirup – drained
10 – 12 ladyfingers
2/3 cup espresso (or strong brewed coffee)
3 tbsp Amaretto (for adults or orange juice for kids)
½ Vanilla bean (or 1 tbsp good Vanilla-extract)
Cacao for dusting
Direction:
Arrange the ladyfingers on the bottom of a pan (10×7 or 8×8). Mix the espresso with the Amaretto and drizzle it over the ladyfingers. Then arrange the drained cherries on the ladyfingers.
Beat heavy cream, sugar and the inside of a ½ Vanilla bean in a chilled bowl on high speed until stiff peaks form. Take the half of the stiff heavy cream to the cream cheese and mix gently until just combined. Add the remaining stiff heavy cream to the mixture and also mix gently until the ingredients are combined. Cover the ladyfingers and cherries with the cream cheese-mixtures. Dust generously cocoa powder over top, wrap it and let it rest in the cooler for 6 hours. Or you can make it 1 day before that the ingredients can develop their full aroma.
There are many recipes with eggs but I think you don't really need eggs in the Tiramisu. Without eggs you get a longer shelf-life. Also you can upgrade this recipe with a little eggnog.
If you find Mascarpone cheese in the stores you need a little bit less sugar because the cream cheese has more acid than the Mascarpone cheese.
Bon Appetite