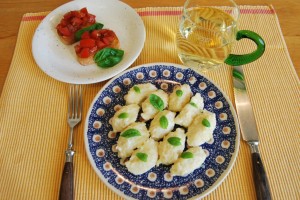 I learned this dish from a friend during a vacation in Calabria/Italia. The name malfatti has the meaning "badly made". There are less ingredients but the taste is so delicious.  This recipe is the basic but you can add spinach, fresh herbs or bacon with onions. Create your own favorite malfatti from this basic.
Servings 4 Person
Ingredients
10 oz Ricotta
2/3 cup wheat flour
4 oz  Parmesan cheese, freshly grated (or Grana Padano cheese)
2 egg
2 egg yolk
grated nutmeg
salt
After cooking:
2 oz butter
2 oz parmesan cheese, freshly grated
Mix the ricotta with and the egg and egg yolk , season with salt and nutmeg. Add the flour and grated Parmesan and mix all together until you get a  soft dough. Let it rest for approx. 30 minutes.
Flour a surface and mold with 2 tablespoons little dumplings and place them on the floured surface.
Pour water into the pan and bring it to a simmer, salt lightly. Add the dumplings and cook them until they float to the water surface. (approx. 3 minutes)
Place the dumplings to a preheated (120 °F) casserole, drip with melted butter und sprinkle the grated Parmesan on the top.
This dish tastes especially very good when you served it with bruschetta.
Bon Appetite