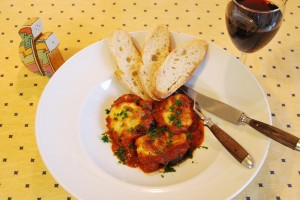 This dish is great for an appetizer with a crusty baguette. Or as a main course with a grilled chicken breast and green salad. The taste is a little bit spicy because of the red chili pepper. This is one of our favorite dinner in the summertime.
Serves 4/6 Person
Ingredients:
2 medium eggplants
1 medium onion thinly sliced
1 red chili pepper chopped (or ¼ tsp crushed red pepper)
3 garlic cloves crushed
2 cup crushed tomatoes (canned)
2 medium tomatoes chopped (fresh)
½  tsp sugar
olive oil
salt, freshly ground pepper
½ tbs dried basil (or fresh)
½ tbs dried oregano (or fresh)
½  lb mozzarella cheese (fresh) in 1/4 inch slices
chopped basil leaves or dried basil to garnish
Directions:
Preheat the oven for 400 °F
Take a deep pot and heat the olive oil, add onions, garlic, red chilli pepper and sugar, stir well about 2 minutes until the color of the ingredients is lightly brown. Add the crushed and chopped tomatoes, basil, oregano and season with salt and freshly ground pepper. Let it simmer for approx. 10 minutes.
Wash and cut the eggplants in ¾ inch slices. Heat some olive oil in a heavy pan and add the eggplant slices. Fry each side approx. 5 minutes until the slices have a nice brown color. Use for each side a little olive oil for a better frying.  Place the eggplants slices in a casserole and season with a salt and pepper. Cover the eggplants with the tomato sauce and  arrange evenly the mozzarella slices on it.
Put the casserole in the oven for approx. 15 minutes until the mozzarella cheese is melted and light brown.
Bon Appetite