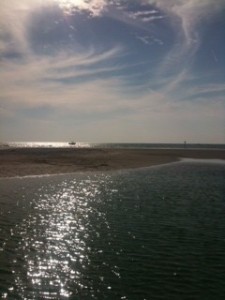 In a market where inventory levels have been dropping, but the demand remains steady, the need for additional housing is a necessity for those seeking to buy property in Southwest Florida. According to the Herald Tribune, "The developer of a long-stalled luxury condominium on Longboat Key hopes to build soon, the first time in seven years a new residential project has gone forward on the tiny barrier island… Crossgate Partners LLC is taking reservations for the 11-unit Infinity Longboat Key, which was originally called Bleu Claire when first proposed in 2005."
Longboat Key, which is renowned for being the essence of luxurious living with its white sand beaches, tranquil island setting, and inviting green golf courses, is no stranger to these types of lavishing condo communities. This new, high-end, Gulfside community will be built on a 2.5-acre parcel, at 4765 Gulf of Mexico Drive, which used to be the home of the Holiday Beach Resort.
The units at Infinity Longboat Key will offer a modern, contemporary look, yet maintain that coastal feel. The properties, however, will certainly cater to a "luxury" savvy crowd. According to the Herald Tribune, "Crossgate has priced the five-story Infinity condos from $2.8 million to $4.95 million for a pair of top-floor penthouses, a bit lower than the original prices…the three- and four-bedroom units range from 3,638 square feet to 5,456 square feet. A clubhouse, fitness center and beachfront pool and spa are also planned."
Construction is slated to begin after half of the units are sold and is expected to take one year to complete. If you are interested in taking advantage of these magnificent Gulfside units or if you would like more information, please contact Jim Mulligan, REALTOR, Suncoasteam Realty at 941-235-7474 or jim@suncoasteam.com.
If you have interest in property in Sarasota, Florida, please click Real Estate for Sale in Sarasota. For more information about real estate in Sarasota, Florida, please contact Jim Mulligan at 941-235-7474 or jim@suncoasteam.com.
(Source: Herald Tribune)