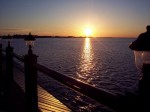 By Debra Mann, REALTOR, Suncoasteam Realty
Contact Debra: 941-626-0744, debra@suncoasteam.com
If you are looking for a wonderful dining experience with panoramic views of Charlotte Harbor, The Captain's Table is the place to go! There is seating outside on the deck or in the beautifully decorated dining room.
The extensive menu is loaded with gourmet dishes & the service is outstanding. Not many restaurants offer a full salad bar anymore, but the Captain's Table does…but you have to be careful not to eat too much there, to save room for the fabulous dinner!
Be sure to check it out! I would suggest making reservations & planning your dinner around the time the sun is going down….it is a sunset you will never forget! They are located on Charlotte Harbor at Fisherman's Village (directly over Harpoon Harry's).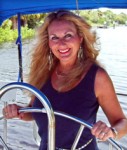 If you are interested in finding out about living in this wonderful paradise we call home, please click on Real Estate for sale in Punta Gorda. …or if you have any questions or want more information about real estate in Punta Gorda, Florida contact Your Suncoasteam @ 941-626-0744 or debra@suncoasteam.com.