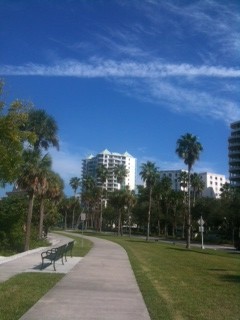 By: Andy Richardson, REALTOR, Suncoasteam Realty
Contact Andy: 941-276-5997, car@suncoasteam.com
Sarasota, Florida. Many have heard of it. Many have vacationed here or at least know of a family member or friend who has vacationed here. You might even know who permanently resides in Sarasota. These people tell you how nice it is to escape the cold winter months, how nice the beaches are year round, how great their lifestyle is being in the Sunshine State, why relocating to Sarasota was the best decision they ever made, or why Sarasota is a great place to raise a family. You hear all of these great things, but have been to Florida before. Maybe you visited another city on the Gulf Coast, rode all of the rides in Orlando, or vacationed in one of those Atlantic coast cities. Maybe you're even a Florida resident already. If you think that there is no possible way that Sarasota could be that much different those other Florida cities, then you don't know Sarasota. Sarasota isn't just another "Florida city." Sarasota is one of the most beautiful, lively, culturally enriched cities in all of Florida.
But what makes Sarasota so great? Is it the fact that Siesta Key Beach in Sarasota was ranked the #1 Beach in America in 2011? Maybe it is because of the great art and theater scene of this charming Gulf Coast city? Could it be due to the way local businesses add to the city's cultural richness? How about the fact that Sarasota dismisses the notion that Florida reaches triple digits in temperature every year? I'll tell you why Sarasota is so great. And I will not try to convince you with a classic spiel designed to aggressively lure you to the area. I'm going to tell you about what a typical day for me, a Sarasota resident, is like.
Saturday, one of the best days of the week. If you have the day off work, Saturday is the time to unwind, relax, and have a good time. Allow me to tell you what a normal Saturday looks like for me and then you can be the judge as to if this sounds appealing to you.
It starts with waking up to the sunshine creeping through my blinds. As I look out my bedroom window, I am greeted by palm trees and the occasional sandhill crane in my backyard. A sunny sky and a beautiful view help jump-start my day and I wake up feeling refreshed. But I also wake up hungry and I need to eat something that's going to really hit the spot. First things first, though. It's time for the Farmer's Market so that I can have my produce for the week. Every Saturday starting at 7:00 AM rain or shine, is the Farmer's Market in downtown Sarasota. Over 70 vendors fill the street with locally grown produce and plants. So, I will load up on my favorite foods and head home to drop off my recent purchase. I'm still hungry, however.
Without even thinking, I forgo the boxes of cereal in the kitchen, drive past the fast food chains and head straight for Siesta Key (2011 winner of the #1 Beach in the US, according to Dr. Beach). The drive doesn't take long from where I live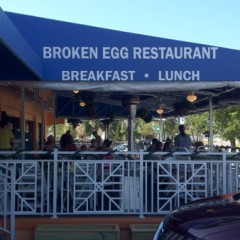 and that's another nice feature of Sarasota; you can get to all of the area "hot spots" rather quickly. Regardless, the #1 Beach isn't the first thing that's one my mind; it's time to eat and there is no better place than The Broken Egg in Siesta Key. Famous for being a favorite of NCAA Basketball legend, Dick Vitale, The Broken Egg has a delicious breakfast and lunch menu that has something for even the pickiest eaters. My favorite? Cassie's Favorite Skillet: A potato, layered with eggs cooked your way, bacon, onions, bell peppers, and cheese. Served with fresh fruit and warm toast. This is what I consider to be the best breakfast in all of Sarasota.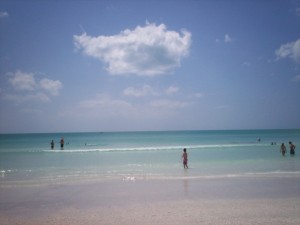 After breakfast, it's time to visit the #1 Beach. Grab the sunscreen, beach towel, and chair and I set off for the sugar sands of Siesta Key Beach. The sands here are unlike any other beach in the world. With a texture of flour, these soft, white sands are what make the beach experience so memorable. The clear, tropical waters of the Gulf of Mexico also make this a very desirable beach. A generally low surf allows swimmers to enjoy the beauty of the water. At Siesta Key Beach you will also find a volley ball court, snack bar, picnic area, public restrooms, and more. The more being the views and wildlife you will see at this beach. I enjoy watching the boats on the horizon, seeing the people parasailing above, the sea gulls and pelicans diving for fish, and the dolphins swimming just one hundred yards off shore. I could spend an entire day at the beach, but I digress.
After the beach, my options are endless. Maybe I want to go kayaking, go on a hike, get over to one of the bars or restaurants in Siesta Key Village for happy hour or a snack. Maybe I will just go home and relax by the pool. No…I think I want to do something different. I want to go to Mote Marine Aquarium. Mote is fantastic because it has SO many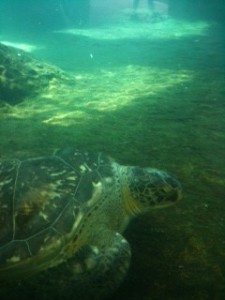 enclosures and is very educational. I like to learn about the fish that I share the water with, as well as the species that are invasive to the area. It's also pretty cool seeing the sharks up close and personal, watching the dolphin frolic in the water, touching a live sting ray in the "touch tank," getting right next to the massive loggerhead sea turtles, or seeing my personal favorites, Hugh and Buffet, the manatee brothers. The other great thing about Mote is that they offer Eco-Tours around the Bay. You can learn all about the different environmental factors facing the area ecology. It's a learning experience, but it is one of the most enjoyable learning experiences I have ever had. Much like the beach, I could spend an entire day at Mote. But I digress…
Sarasota evenings are a whole other element of fun and this what I probably like best about the nightlife here. If I want to dress casually and head back down to Siesta Key for food, fun and dancing, I can do that. If I want to head over to St. Armands Circle (across the Ringling Bridge on Lido Key) to go shopping at the over 130 stores before dinner at one of the many enjoyable restaurants, I can do that. If I want to go the Player's Theater and then out to dinner downtown, I can do that. There is just so much to do in Sarasota, that planning a day full of adventure or a nice night out on the town is not difficult.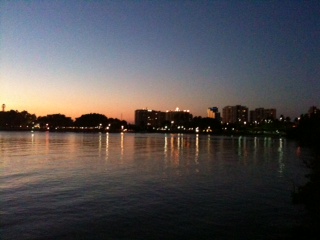 Now that you've seen the "local" perspective of the area, you can probably appreciate the passion that I have for this
city. With some of the best beaches in Florida, amazing wildlife conservation efforts, wonderful entertainment and nightlife, a great flavor for the arts, and unlimited dining options, Sarasota truly is one of the most eclectic cities in all of Florida.
For more information or if you are interested in Sarasota real estate, please contact Andy Richardson, Realtor, Suncoasteam Realty, 941-276-5997 or CAR@suncoasteam.com. Please visit suncoasteam.com/sarasota to search the MLS for available real estate in Sarasota, Florida.