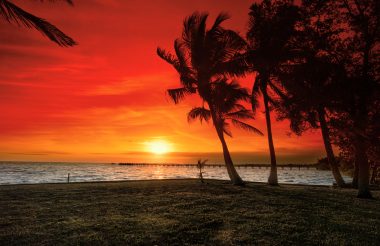 Located on Florida's Gulf Coast, Port Charlotte is a charming community that offers a laid-back lifestyle and access to some of the state's best beaches and outdoor activities. With a population of just over 60,000, Port Charlotte is a small town that offers all the amenities of a larger city, without the crowds and traffic.
Natural Beauty and Outdoor Activities
One of the biggest draws of Port Charlotte is its natural beauty and abundance of outdoor activities. The town is situated on Charlotte Harbor, which is one of the largest estuaries in Florida and a popular spot for boating, fishing, and kayaking. The nearby Gulf of Mexico offers some of the best beaches in the state, including the popular Englewood Beach and the secluded Stump Pass Beach State Park.
In addition to water activities, Port Charlotte is home to several parks and nature preserves. The Charlotte Harbor Preserve State Park is a 46,000-acre wilderness area that offers hiking, bird watching, and wildlife viewing. The Ollie's Pond Park and Tippecanoe Environmental Park are also popular spots for outdoor enthusiasts.
Affordable Housing
Another advantage of Port Charlotte is its affordable housing. The median home price in Port Charlotte is lower than the national average, making it an attractive option for retirees, families, and young professionals. The town offers a variety of housing options, from waterfront condos to single-family homes in quiet neighborhoods.
Economy and Employment
Port Charlotte's economy is driven by healthcare, retail, and tourism. The town is home to several healthcare facilities, including Fawcett Memorial Hospital and Bayfront Health Port Charlotte. Retail is also a major industry in Port Charlotte, with several shopping centers and big-box stores located throughout the town.
In addition to healthcare and retail, Port Charlotte's location on the Gulf Coast makes it a popular tourist destination. The town sees an influx of visitors during the winter months, which supports local businesses and creates employment opportunities.
Community and Culture
Port Charlotte has a strong sense of community and a vibrant arts and culture scene. The town hosts several annual events, including the Charlotte County Fair and the Englewood Pioneer Days. The Charlotte Symphony Orchestra and the Charlotte Players community theater group provide entertainment for residents throughout the year.
Overall, Port Charlotte is a hidden gem on Florida's Gulf Coast. With its natural beauty, affordable housing, and strong sense of community, it's no wonder that so many people are choosing to call this town home. Whether you're a retiree, a young professional, or a family looking for a relaxed lifestyle close to the beach, Port Charlotte has something to offer everyone.