The Waverly Restaurant & Bar
A dining experience for both couples and friends, The Waverly Restaurant & Bar is a great way to dine after visiting beautiful Englewood Beach. It's only a short walk from the beach on a simple path to the restaurant. The Waverly offers two very distinct atmospheres; the ground floor a bar-like experience with an easygoing environment and the top floor a classic restaurant with a relaxing environment.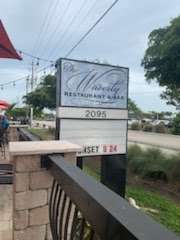 Both floors offer gorgeous views of the beach and, if visited during dinnertime, a stunning sunset to behold. The downstairs is an open area with a bar and plenty of seats for friends to enjoy time together. The upstairs offers romantic lighting, seating, and atmosphere for a great date night. There are candle lit tables, a gorgeous fish tank, and an outdoor balcony on the upper level.
While the environment and atmosphere of a restaurant is important, everyone's goal at a restaurant is food. Both levels provide delicious menu options. The menus (bar, lunch and dinner) offer a wide selection of meal choices and variety, ranging from salads to seafood and steaks to burgers. The desserts are also a must! Excellent presentation and creative ideas create a perfect finish to your meal. Along with wonderful food, comes wonderful service. The staff is delightful and efficient, providing a fast and friendly service for customers.
The Waverly Restaurant & Bar tries to be as green as possible, even providing biodegradable straws. And with all of these coming together, this restaurant will be a good dining choice. Located at 2095 N Beach Rd., Englewood, FL 34223, The Waverly Restaurant & Bar is a great way to spend your time after enjoying Englewood Beach!
Your Suncoasteam
After experiencing visiting Englewood Beach and The Waverly Restaurant & Bar you may decide our area is where you would like to move or visit more frequently during the year. Your Suncoasteam can help you make this a reality. Visit our website, https://suncoasteam.com where you can view listings, photos, details and prices. No sign-up required to view listings.
My direct contact information – Andrea Marin, 941-257-3016 or email me at andrea@serviandrea.com