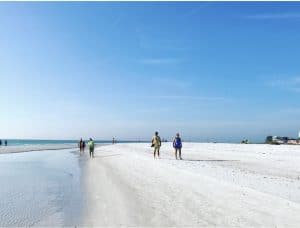 Beautiful Siesta Key is home to a reality show, the purest white quartz sand beaches, picturesque scenery, and has often been ranked the number one beach in the world. Siesta Key is truly a Florida lifestyle paradise.
Siesta Key is located 6 miles Southwest of the city center of Sarasota. With its close proximity to beautiful downtown Sarasota, and the numerous attractions, you will be sure to maintain an enjoyable, active lifestyle. Siesta Key is an exceptional location for people of all ages. 
No matter your taste or style, you will find what you are looking for in Siesta Key, with inviting beach days year-round. Whether the private beachfront living entices you, or the fun, energetic night-life, there is something for everyone. If living in a beautiful tropical paradise, waking up to the coastal luxury and elegance sounds like something that would please you, think Siesta Key.
From condos, to vacation rentals, to single-family homes, there are many choices for the real estate investor. On Siesta Key you will find homes ranging from moderate to ultra-luxury. There are large estates overlooking the Gulf of Mexico as well as small island condos.
If you or someone you know is interested in learning more, buying, or selling in Siesta Key or Sarasota, feel free to contact Jesse Ialuna at Suncoasteam Realty at 941-621-6739, jesse@suncoasteam.com, or visit our website at suncoasteam.com.