By Debra Mann, REALTOR, Suncoasteam Realty
Contact Debra: 941-626-0744, debra@suncoasteam.com
Pirates will be invading Punta Gorda this weekend (Fri – Sun September 23-25) for the 7th Annual Pirate Fest at Fisherman's Village!!  The events kick off at noon on Friday for a fun filled weekend.
On Saturday night from 7:30-9pm on the outdoor stage, don't miss KISS ALIVE – a tribute to one of the hottest rock bands of all time!  All three days, there will be live entertainment, a pirate invasion, a pirate encampment (where you can have your picture taken by Blackbeard's ship), live mermaids, pirate magic, a twilight fire show spectacular & lots more!!
Grab your friends, family & pets and head over to pillage and plunder the shops, restaurants, & pubs at Fisherman's Village!!  There will be activities from one end of the village to the other.  To find out more about this fun event, click here.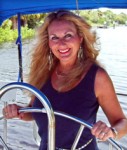 If you are interested in finding out about living in this wonderful paradise we call home, please click on Real Estate for sale in Punta Gorda.  …or if you have any questions or want more information about real estate in Punta Gorda, Florida contact Your Suncoasteam @ 941-626-0744 or debra@suncoasteam.com.