May 1st marks the start of sea turtle nesting season up and down the area beaches. Loggerheads, which are the most common species in this area, green sea turtles, and a handful of the smaller, rarer, Kemp's ridley, will emerge from the warming waters of the Gulf and onto our white sand beaches where they will lay thousands of eggs over the next six months.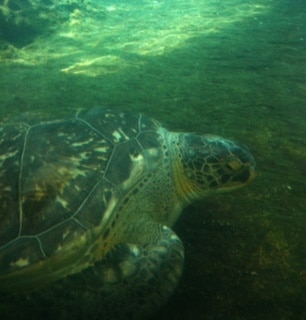 In an effort to protect sea turtles, as well as educate the public, scientists and volunteers from Mote Marine Aquarium patrol nearly 35 miles of beaches in Sarasota and Manatee counties every single day during nesting season. Their aim? To follow the tracks of sea turtles that come ashore, ensure that the pregnant turtles released their clutches of eggs into the nest, and safely made it back into the water.
Mote takes things one step further as part of their conservation efforts; they also mark off all nests that they locate. Generally, the nests are marked with wooden stakes (typically orange or yellow in color), surround by caution tape and notices, educating the public on the nest and instructing beach goers to only view the nests and not walk on, dig around, or disturb the nest in any way.
It is important that beach goers, renters, and residents of homes and condos along be aware of what they can do to help ensure a healthy nesting season.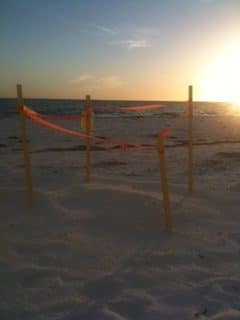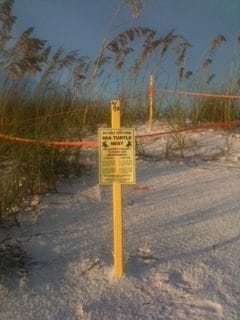 IMPORTANT TIPS & REMINDERS:
Sea turtle nesting season is from May 1 – October 31
There are turtles in the water, just off the beaches. Pay extra attention when boating and don't leave nets, lines, hooks, or trash in the water.
Lights can disorient sea turtles when they come onto the beaches, so please limit the use of bright lights during the evening hours. Instead, reduce or block outdoor lights and use blinds, curtains or drapes to eliminate internal light from shining out your windows.
Do not light fires, use bright flashlights, or shoot off fireworks on the beach.
Stack or remove all debris and furniture (chairs, umbrellas, toys, buckets, fishing gear, etc.) from the beach when you leave for the day. These items can create obstacles for the turtles as they come ashore and can even trap, injure, hurt, or kill them.
Fill in all holes and knock down all sand castles when you leave the beach. An adult turtle might be able to navigate its way from a small hole in the sand, but baby turtles cannot and they will become easy prey for predators.
If you see a turtle coming on shore to nest, stay out of its vision and quietly observe from a distance.
Do not approach the animal, do not scream or use bright lights, and do not stand directly in front of its path.
If you are lucky enough to see baby turtles hatching at night, the same rules apply; do not touch, pick up, or handle the turtles. Do not get in their way and quietly observe from a safe distance.
If you see a trapped or injured turtle or if you come across disoriented baby sea turtles lost in a sand dune or moving away from the water, call Mote Marine immediately 941-388-4331. They will provide you with further instructions.
Remember, sea turtles are protected under federal law, so to ensure your safety and the safety of the animals, please do not harass or tamper with the nests at any time. For more information on sea turtle conservation, please visit Mote Marine Aquarium.