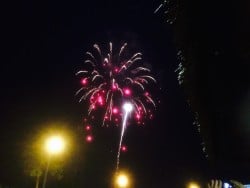 With New Year's Eve just a day away, you may still be wondering what you will do to ring in 2016 in Sarasota and Venice.
For those in Sarasota and Venice, there is quite the selection of events to choose from. However, if you're looking for the "hot" spots, we've listed a few of our favorites below.
NEW YEAR'S EVE:
Downtown Sarasota Pineapple Drop

When: 1:30 PM to 1:30 AM
Where: Pineapple is located at the corner of Main and Lemon in Sarasota
Price: Free admission
Street vendors, fair foods, carnival rides, games, full service bars, live music, and the famous pineapple drop at midnight

Fireworks on the Bay by Marina Jack (Sarasota)

Fireworks start at midnight, all options below require reservations

Patio opens at 7:00 PM – prices range $30-60 per person
Deep Six Lounge Piano Bar opens at 8:00 PM – prices range from $30+ per person
Dining Room – first seating is from 4:00 – 7:00 PM, second seating at 8:45 PM, call Marina Jack for pricing options
Marina Jack II Celebration Cruise – 8:30 PM – 12:30 AM – enjoy dinner and drinks aboard the Marina Jack II and be on the bay to watch the fireworks at midnight – prices start at $150+ per person

New Year's Eve Beach Bash at Sharky's on the Pier

When: Doors open at 8:00 PM
Where: Sharky's on the Pier, 1600 Harbour Drive S, Venice FL
Price: $10 cover
Live music, food options, bar service, fireworks at midnight
Your Suncoasteam wishes you a SAFE and HAPPY NEW YEAR!!
Sarasota and Venice are great cities to enjoy the Florida lifestyle. Located on the easy going west coast of the Sunshine State, these beautiful cities offer all the fun and adventure of larger, more busy Florida areas without the congestion and all that goes with it. Think of Sarasota and Venice when you think of your Florida vacation or home.