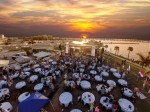 By Debra Mann, REALTOR, Suncoasteam Realty
Contact Debra: 941-626-0744, debra@suncoasteam.com
The 10th Annual Wine & Jazz Festival will take place at Laishley Park, on the beautiful shores of Charlotte Harbor Saturday, Feb 21st! This year's featured artists include Mindi Abair, Nick Colionne & Dave Koz!
The park opens at 12:30pm & the 1st performance is at 1pm. Food and beverages will be available for purchase. Grab your lawn chair and don't miss the smooth sounds floating through the air…it is going to be a great party!
For more information on the Jazz Fest, call 941-639-3720 or visit www.puntagordachamber.com
If you are interested in finding out about living in this wonderful paradise we call home, please click on Real Estate for sale in Punta Gorda. …or if you have any questions or want more information about real estate in Punta Gorda, Florida contact Your Suncoasteam @ 941-626-0744 or debra@suncoasteam.com.