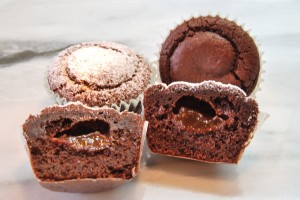 Easy to make and yummy are these Chocolate muffins with a center of jelly. In this recipe I worked with apricot jelly but instead you can use your favorit jelly. With a center of jelly the muffin is more soft and can be stored longer. If you use milk chocolate the muffins are a little sweeter.
For 12 pieces
Ingredients :
9 oz all purpose flour
0,75 0z  cocoa powder
3.5 oz  chocolate (dark or milk chocolate)
2 eggs
5 oz  brown sugar
3 oz butter
3 oz  oil
3 oz  milk
2 tsp baking powder
Directions:
Preheat oven to 350 degrees F.  Grease 12 muffin cups, or line with paper muffin liners.
Shift all purpose flour, cocoa powder and baking powder together into a medium mixing bowl.
Melt chocolate, oil and butter together in a sauce pan (approx. 100 °F) and add sugar, milk and eggs and mix it up.
Bring the fluid part to the dry part und mix until all ingredients come together – do not overmix the batter.
Fill two tbsp batter in the cups, place one tsp jelly in the center and cover it with batter. The cups should be full approx. 75 % with batter.
Bake in the preheated oven in the middle for 18-20 minutes. Shift a little bit of powder sugar over the muffins.
Bon Appetite