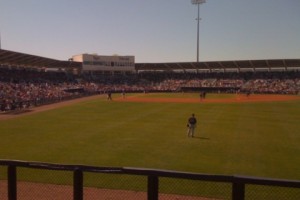 The Tampa Bay Rays begin another season of spring training in Port Charlotte, FL on February 28, 2014 with a home game against the Baltimore Orioles who train in Sarasota.
The Rays first full squad workout is scheduled for February 19 and Rays Fan Fest will be held on Saturday, February 22 at Tropicana Field.
The move to Port Charlotte for the six weeks of spring training will bring new players as well as steady team favorites like Evan Longoria, Ben Zobrist, Desmond Jennings and others. Matt Moore, a Port Charlotte resident when he played for the Rays "High A" minor league team, the Charlotte Stone Crabs, will return and receive another warm welcome from his fans. Tim Beckham, Hak-Ju Lee, Alex Cobb, Alex Colome, C.J. Riefenhauser, Enny Romero, Kirby Yates and Kevin Kiermaier were all members of the Charlotte Stone Crabs and welcome residents of our community as well.
Port Charlotte and the entire area of Charlotte County and southern Sarasota County (North Port and Venice) are please to welcome the Rays back to our community for another year of spring training. And look forward to an exciting spring and summer of baseball while we watch our Stone Crabs team members hone their skills and work toward a place on the roster of the parent team.