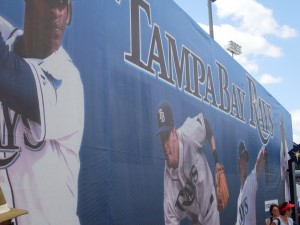 With Spring Training now underway in Port Charlotte, FL, the Rays team members are looking forward to another winning season. Manager Joe Madden sets the tone and he is always upbeat and optimistic. He has every right to be with the success he has brought to the team.

Pitcher Alex Cobb added his name tho those who think it will be a great season. The right handed pitcher is ready to work hard to prepare and win games. He feels that playoff experience helps the team.
To help Cobb, there are the well known righties and eight excellent left-handed pitchers, among them Matt Moore and David Price, a former Cy Young winner.

There will be 64 players at the camp and it will be a tough job to get it whittled down to the starting roster with such deep talent. The core of the team, infielders Evan Longoria, Ben Zobrist, James Loney and Yunel Escobar are ready to go and the first game of this year's Grapefruit League season at Charlotte Sports Park will start at 1:05 on Friday February 28 against the Orioles. Be there to enjoy the fun!