Leek wrapped with ham
A very easy and fast dish for a starter or a main course.  I love the taste and I'm sure you would love it too.  Leek is a great vegetable – not only for uses in soups.
Servings 4 person for a starter
Ingredients:
4  medium-sized leek
8 slices of ham
1 ½ cup heavy cream
½ cup grated cheese (I prefer Swiss cheese)
salt, pepper and nutmeg
Direction:
Preheat oven to 375o F.
Prepare the leek: Peel away the outer dark green leaves, cut the ends, and wash gentle under running water. Cut the leek in the size of the ham.
Season each slice of ham with salt, and freshly ground pepper and nutmeg. Wrap the ham around the leek and place each piece in a casserole dish.
Season again with salt, freshly ground pepper and nutmeg and add the heavy cream. Then sprinkle the grated cheese on the top.
Cover the surface with a sheet of aluminium foil and put it in the oven.  After 25 min. remove the aluminium foil from the top and bake for  another  approx. 10 min. until the cheese crust is golden brown.
Serve with baguette and your choice of salad.
Wine suggestion: Try white wine for example Chardonnay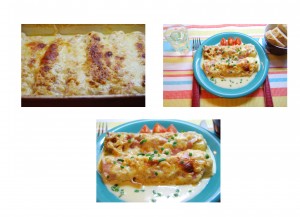 Bon Appetite