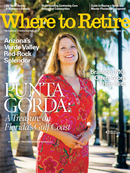 Where to Retire Magazine chose Punta Gorda, FL for their January / February 2014 issue cover. The magazine listed many wonderful features of Punta Gorda, Florida that make it an excellent choice to retire. The very affordable waterfront real estate in Punta Gorda was one of the important factors. It also noted the many parks, free parking downtown in the city owned parking garage, miles and miles of bike paths and the city's free bike loaner program.
Other towns in this area have been named by various retirement and financial magazines as excellent retirement choices. Port Charlotte and Englewood have been among the honorees, all very close to Punta Gorda.
Punta Gorda, FL is located between Fort Myers and Sarasota, about 100 miles south of Tampa. It's name in Spanish, Punta Gorda, means Fat Point. Legend has it that it was named by Ponce de Leon when he mapped Charlotte Harbor on his visit to the area. Punta Gorda is on the south and east side of Charlotte Harbor and benefits from wonderful views, great boating, fishing and sailing and year round great weather.
Punta Gorda is a small, intimate city. The people are friendly because the laid back, easy-going feel is so relaxing. For more information about real estate for sale in Punta Gorda, FL, please contact your Suncoasteam agent at 941.235.7474.
Where to Retire Magazine
http://www.wheretoretire.com
contact@WhereToRetire.com, call us at 713-974-6903 or write to us at:
Where to Retire
5851 San Felipe Street, Suite 500
Houston, TX 77057