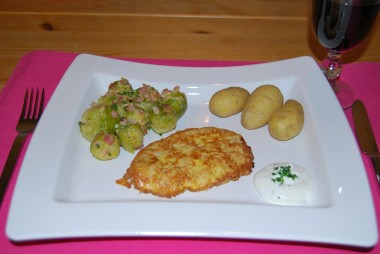 This special recipe is for people who like onion and mustard in combination with pork. I also use a little grated horseradish for an additional taste.
Servings 4 person
Ingredients:
4 pork chops  (without bone)
1 medium onion finely chopped
4 tsp Dijon mustard
1 tbsp grated horseradish
1 lightly beaten egg
3 tbsp flour
Salt and pepper
6 tbsp vegetable oil for frying
Direction:
Season both sides of the meat with salt and pepper. Add one tbsp mustard on one side and spread it.
Mix the finely chopped onion and grated horseradish. Dip the meat with the mustard side in the onion and horseradish mixture, sift a little flour on it and press all lightly together. Turn in beaten egg and place the pork chops with the onion and horseradish mixture in a greased pan at medium heat.
Fry each side for approx. 4 minutes and let it rest for 6 – 8 minutes in the oven at 200 °F.
Side dish: Brussels sprout with bacon and cheese
Ingredients:
2 lb brussels sprouts
6 oz bacon
6 oz grated cheese (Gouda is the best choise )
1 oz butter
11/2 tbsp chives finely chopped
salt, pepper and ground nutmeg
Direction:
Cook the brussels sprouts in salt water for approx. 15 minutes.
In the meantime, cut the bacon in strips, put the strips and the butter in a large pan and fry it for approx. 5 minutes at medium heat.
Then add the brussels sprouts, season with salt, pepper and nutmeg and mix all together. At least add the grated cheese and finely chopped chives and combine all gently.
Serve the onion pork chops and brussels sprouts with baked little potatoes and herbs-sour cream. Yummy
Bon Appetite