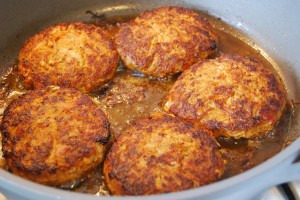 Here is a very popular dish from Germany. There are many names for this dish like Buletten, Hackfleichbackele, Frikadellen, Fleischpflanzerl etc. but all the people know what it is. Mostly made with minced meat from pork and beef. Additional ingredients are chopped onions, bread-roll or bread crumbs, eggs, salt and pepper, mustard and parsley. In this recipe I add some specials ingredients like bacon, sauerkraut and dried paprika powder.
Servings 4 person
Ingredients
1 lb minced meat (depends what kind of meat do you like)
1 egg
1 medium chopped onion
1 clove chopped garlic
1 bread roll or 2 slices toast bread (soak in water)
¼ lb sauerkraut
¼ lb bacon
2 tbsp dried paprika powder
1 tsp salt
½ tsp freshly ground black pepper
2 tbsp chopped parsley
4 tbsp vegetable oil for frying
Direction
Put the roll or the slices of toast bread in a bowl, add the water for soaking and let it rest for 10 minutes and then squeeze the water out.
Cut the bacon in little strips and fry it in a pan. Add the chopped onions and garlic until they are lightly brown.
Drain the sauerkraut and cut it a little bit. Now add all ingredients in a big bowl and gently combine all.
Mould 8 equal pieces and fry it in a heavy pan with the vegetable oil at medium heat. The German meatballs taste also good if they are cold with a some mustard.
Side dish: Fry potatoes and red bell peppers together in a pan, season with salt, freshly ground pepper and some caraway seeds.
Bon Appetite