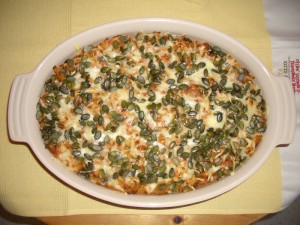 This dish has its roots in Hungary but is also popular in the south of Germany and in Austria. It is a simple and very good meal.  During my childhood my mother makes this dish often because my sister and I like this very much. It is a good tasty combination and not only kids would love it.
Cabbage-and-noodle casserole with ham; called "Krautfleckerln" 
4 servings
Ingredients:
½ lb  pasta for Fleckerl (small squares cut from flat noodles or lasagne noodles)
1 small white cabbage head  (1 ½ lb)
6 oz ham (little squares)
6 oz vegetable broth
2 onions (chopped)
2 cloves garlic (chopped)
2 Tbsps sugar
2 Tbsps Paprika
2 Tbsps Marjoram
4 Tbsps Olive Oil
Salt,  ground pepper
6 oz cheese
4 Tbsps Pumpkin seeds
Directions:
Wash the cabbage and remove the stalk. Cut into quarters, then cut the quarters into smaller pieces.  Cut the pieces roughly into squares, Add salt to taste. Bruise by hand and let stand for about 20 minutes. Squeeze out as much liquid as possible.
Heat the olive oil in a deep skillet, add the chopped onion and garlic and stir 1 minute. Then add the sugar and stir well until light brown. Add the vegetarian broth, paprika, marjoram and salt and pepper.  Put the cabbage in the deep skillet, stir well, cover it and cook for ca. 15 minutes. Stir from time to time.
In the meantime cook the noodles in salt water. Drain the noodles and combine with the cabbage and the ham.
Fill this in a casserole, cover the surface with cheese and pumpkin seeds. Bake it for 10-15 minutes at 375 °F until the cheese is melted and light brown.
Serve with a fresh salad!
Bon Appétite
Please feel free to contact me if you have questions or comments at: ralfsrecipes@gmx.net