Port Charlotte Condos at Heritage Oak Park
Over the last two weeks I have shown customers condos from Fort Myers to Sarasota. While there are some nice homes in all parts of Florida, Condos in Charlotte County, Florida seem to have exceptional value.
While there are condos in other areas listed for prices close to the price in Charlotte County (Port Charlotte, Rotonda, Englewood, Punta Gorda, etc), our customers have found some surprising drawbacks in those. Most of those drawbacks concern traffic.
For instance, I showed a nice condo on a canal in North Fort Myers. The condo was built in the mid 80's and asking $140,000. The canal was rather narrow and shallow, but one could easily get a 16-foot boat into it, such as a Whaler. There was a golf course nearby and it was only about five miles from shopping. The deal killer was when the customers asked a pro at the golf course how long it would take to get to Fort Myers Beach.
"When?€ he asked.
I knew he was being "cute€, but we needed answers. "Now€, I said.
He replied that it would take 35 – 40 minutes to get to the bridge at Estero and the beach.
"What about in season?€ I asked.
"Two hours, unless there's an accident or something.€
Well, forget that condo. They couldn't afford a beachfront unit and they certainly weren't going to spend their precious vacation time fighting traffic.
We looked at condos in Sarasota and Venice, Florida. There are many beautiful homes in these cities but the prices are considerably higher. Although the traffic problem was not as severe as Fort Myers, it was still slow moving to the beach in season. We found one very nice unit within walking distance of Ed Smith Stadium, spring training home of the Cincinnati Reds. This almost new, two bedroom condo was asking less than $160,000.
Finally we visited Port Charlotte and Punta Gorda. There are many units available and the prices are great. We toured Deep Creek, Punta Gorda Isles and Port Charlotte's Heritage Oak Park.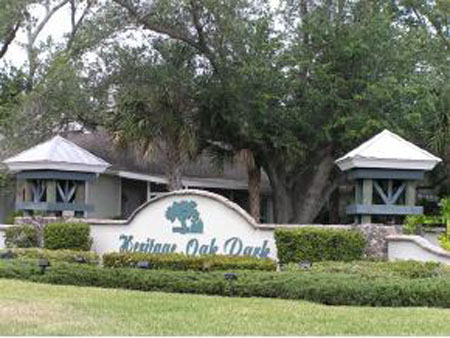 Heritage Oak Park is a gated community with excellent amenities and beautiful grounds. The name gives only a hint of the magnificent oak trees lining the streets. As you enter the community, live oaks form a canopy across the road, giving an air of the old south. Even in the heat of summer, a stroll along these shady lanes can be pleasant.
Heritage Oak Park offers town homes and mid-rise condos. The price range is from the low $100,000's to the high $200,000's. Some of the more luxurious homes, with exceptional views, may exceed $300,000. Built in 2003, Heritage Oak Park complies with the most strict windstorm standards.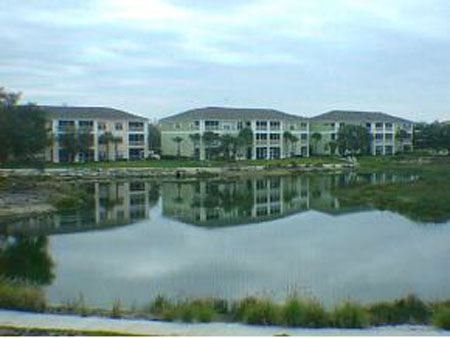 Some of the benefits of Heritage Oak Park derive from the great location. The development is close to shopping and restaurants. HO is about one mile from Town Center Mall with it's great shops and department stores. From Heritage Oak Park, one could walk to a Publix super market and even a great family owned Italian restaurant. There are many other restaurants within walking distance as well.
Heritage Oak Park is located near state highway 776 so it is an easy drive to Englewood Beach on the Gulf of Mexico. Even closer still is the Port Charlotte Beach Complex overlooking Charlotte Harbor. Charlotte Harbor has some of the best fishing, boating and sailing in the entire USA. It is well known for tarpon and red fish. There is even a famous Red Fish Tournament each March, televised on a popular sports cable channel. The many islands spotting Charlotte Harbor has made it a favorite of sailing magazines.
Heritage Oak Park is only about a 5 minute drive to Charlotte County Stadium, the Spring Training home for the Tampa Bay Devil Rays starting in March, 2009. The stadium is in the process of a 27.2 million dollar renovation and will be magnificent park. There you will be able to watch all your favorite stars from the Red Sox, Yankees, Twins, Reds and other teams as well as the Rays prepare for a new baseball season.
We found a nice three-bedroom unit in Heritage Oak Park and the buyers got a great deal in this buyer's market. Let Your Suncoasteam find you a great deal. Give us a call today!
Condos For Sale In Port Charlotte, Florida – Northeast Section
Condos For Sale In Port Charlotte, Florida – Southwest Section
James B. Mulligan, Licensed Real Estate Broker
849 Calvert Ave
Port Charlotte, FL 33948
Jim Mulligan (941) 456-3034
Andy Leonard (941) 662-0033
Questions: sales@avalonsuncoast.com
Search the Southwest, Florida MLS
Featured Homes, Condos and Lots for Sale in Southwest, Florida
Homes For Sale In Southwest, FL
Sellers – Know what your Southwest Florida home is worth in today's market. Click here for a FREE, NO OBLIGATION MARKET ANALYSIS of your Southwest Florida Home.