Progress, Sunseeker Resort, Fall 2021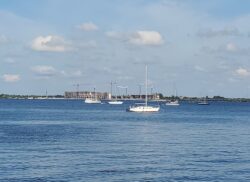 Sunseeker Resort, the hotel project affiliated with Allegiant Airlines, is back on track. Covid 19 delayed the project, but in the summer of 2021, the decision was made to restart. Since the restart, impressive progress has been made.
Sunseeker Resort will be a First-Class Hotel and Convention Center located on Charlotte Harbor in Port Charlotte, FL. The hotel will have panoramic views of beautiful Charlotte Harbor and Punta Gorda Isles. When finished, there will be about 500 hotel rooms plus extended-stay suites. This will total almost 700 units.
Amenities
Sunseeker Resort will have an enormous 55,000 square feet of meeting and convention space. Eighteen restaurants will open to the public plus one private restaurant for hotel guests. Plans include retail space open to the public with access from the scenic Harbor Walk. The resort will also have a golf course, a complete fitness gym and day spa for Sunseeker Resort guests.
There will be two swimming pools. A rooftop pool where guests will be able to enjoy spectacular sunsets and a larger ground level pool will grace the grounds. A large marina is planned for future development.
The Harbor Walk, open to the public, will connect Sunseeker Resort to parks in Port Charlotte and in Punta Gorda. Area residents and visitors will be able to stroll along beautiful Charlotte Harbor, enjoying the views. This will be fun exercise and access to the many attractions at the new resort.
The sumptuous accommodations will attract corporations and vacationers alike. Grand opening is hoped be in early 2023. This luxurious development will attract interest far and wide. Allegiant Airlines offers direct flights to Punta Gorda from more than 50 cities and with the success of Sunseeker Resort, you can be assured they will add more. This publicity and ease of access will bring great interest to our area.
Click Here to see December 2021 fly over of Sunseeker Resort showing work progress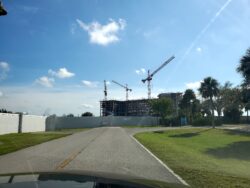 Investment Opportunities
There are many attractive investment opportunities in Southwest Florida Real Estate. With many more visitors, area real estate is certain to be effected. If you have interest in purchasing property in the area, please call your Suncoasteam for personal attention. We are a local, privately owned brokerage, dedicated to providing the best service in the industry. We do not charge additional fees like the national franchises. Our agents have extensive experience in Southwest Florida Real Estate. We will be honored to assist you in finding a home in our area for relocation, seasonal use or for rental investment purposes.

Please call your suncoasteam at 941-235-7474 or email sales@suncoasteam.com
Single Family Homes For Sale in Punta Gorda, FL
Condos and Villas For Sale in Punta Gorda, FL
Single Family Homes For Sale in Port Charlotte, FL
Condos and Villas For Sale in Port Charlotte, FL